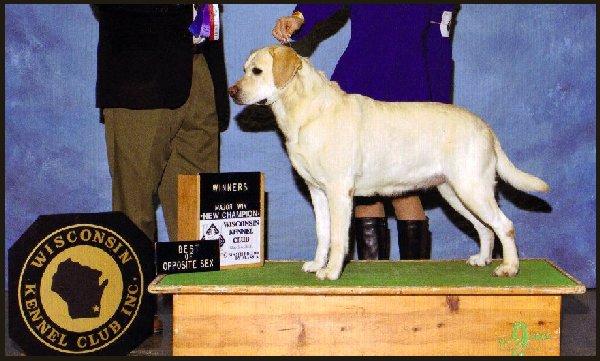 CH Glacieridge Charlie's Red Ale (Cliff) X Honorbright Nonchalance (Shelly)
DOB: 7/14/2006
OFA Excellent
EIC Clear
Elbows normal
Eyes cleared annually/optigen normal by parentage
Summer is bred and co-owned with Pat Kroll of Honorbright Labradors. She is a very smart girl with a sweet Labrador temperament who earned her JH easily at age 2. She finished her Championship on 3/6/11 and her Grand Champion title in May, 2013 after being beautifully presented by Kelly Schur and Brenda Belmonte for most of her points.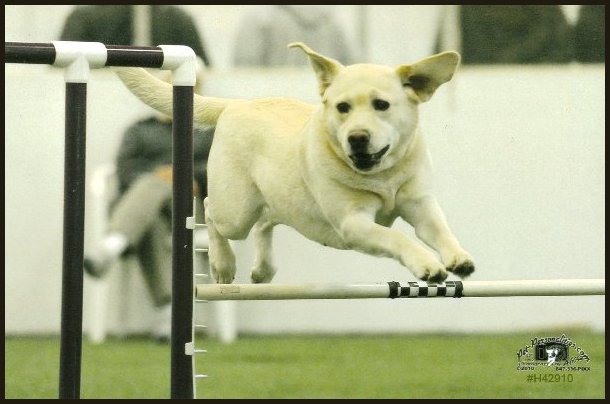 Summer also finished her first AKC agility title on 3/19/11. Summer completed her *TN-N (*Novice Tunnelers title in NADAC) on 4/14/12. She also completed her Novice Fast agility title and her Rally Advanced title in December of 2012 as well as accumulated many points in the conformation ring in 2012. In January of 2013 she then finished her Open Jumpers Agility title while still competing in the conformation ring and finished her Grand Championship 5/4/13. Summer has a great attitude in the performance ring and will continue to compete for advanced titles in rally and agility. As of November, 2013, she is almost to both of her Excellent titles in agility. **In December, 2013, she tried Barn Hunts for the first time and easily passed both her rat instinct test and earned her Novice title (RATN) in one weekend. She then earned her Open (RATO) title in August of 2014 and is now competing in senior. She has a great nose so if I can find the time in the future I would love to try tracking with her. She finished her Excellent Agility Jumpers title in February, 2014 and after time off for puppies went back in the agility ring during the summer of 2014 earning her agility excellent standard title (AX) on 9/26/14. Summer also continues to make occasional appearances in the breed ring in the Veteran class.
Summer is a sweet and affectionate dog who is wonderful with children and other pets. Although she weighs about 75 pounds she thinks she is a lap dog!
Summer finished her Master Jumpers with Weaves (MJP) on 3/12/16! She is the first dog that I have titled in Masters agility so I am thrilled that she has gone so far.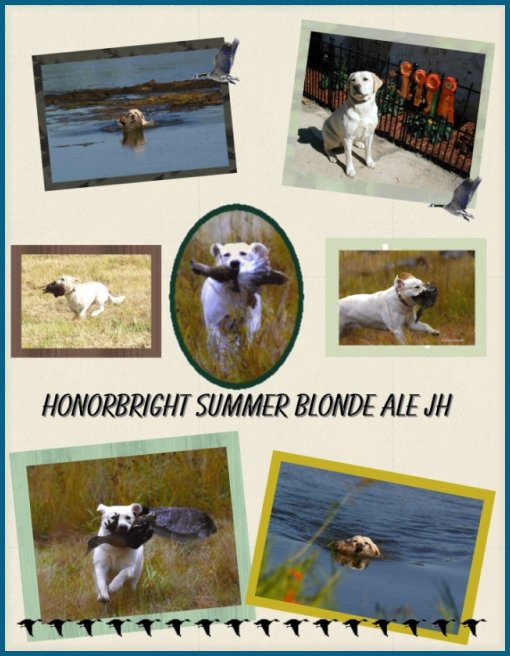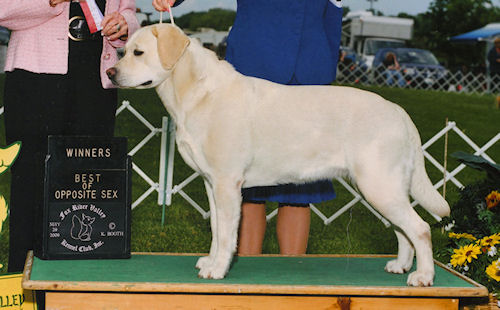 Summer has also competed at specialty shows. She placed 4th out of a large open yellow bitch class at the 2009 Labrador Nationals in October, 2009.
Summer placed 2nd in the open yellow bitch class at the Badger Labrador Retriever Club 2010 specialty March 5th.
She won Best Veteran at the 2017 Badger Labrador Retriever Club Specialty. She earned the Dog For All Reasons Award at the 2011, 2012, 2014, 2015 Nationals after competing in multiple events as well as passed "The Challenge". The 2013 National was too far from home but she made it a "threepeat" in 2014 in Gettysburg and a "fourpeat" in 2015.
Summer has continued to excel in performance classes earning her Master Agility titles, Master Barn Hunt title and on 1/6/2018 finished her Barn Hunt Championship. She also went back to competing in Hunt tests in the summer of 2017 at age 11 and along with her granddaughter, Saphie, she earned her Started Hunting Retriever (UKC) title having a great time doing so.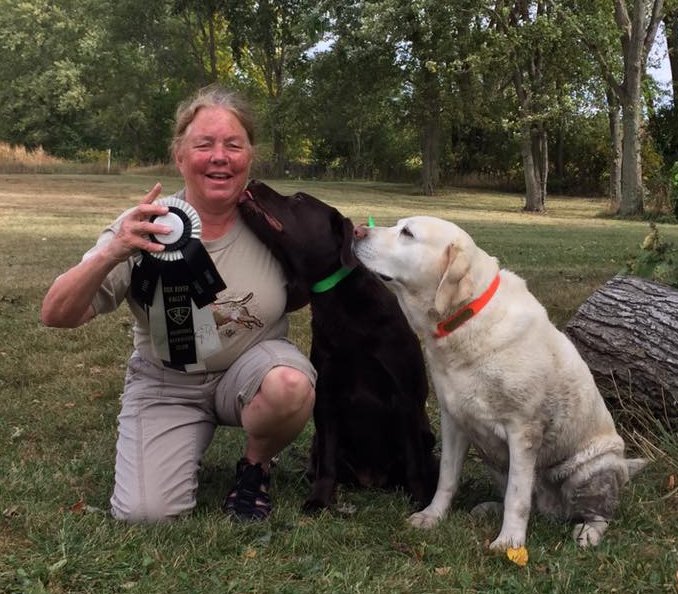 Saphie and Summer