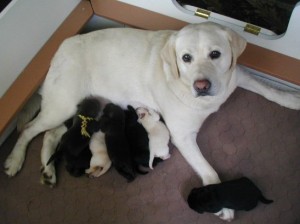 On June 17th one of our yellow Labs, Summer, welcomed her first litter into the world. Summer did me the huge favor of whelping during the day between 10:25 a.m. and 3:58 p.m. Most times it seems like litters are born during the middle of the night making it hard to get ahold of a vet if you need one and also making it hard to find an extra pair of helping hands to sit up with you as you await the births. Fortunately my friend, Lynn M. was able to come and join me for most of the births and was a huge help.
Summer surprised me by having all three colors of Labrador Retrievers in her litter — black, yellow and chocolate. (There are only 3 accepted colors in the Labrador Retriever Breed Standard.) We knew that the dog we bred her to, Calypso, carried the gene for chocolate as well as for yellow (Calypso is black) but we did not know that Summer carried the gene for chocolate. I was really excited when puppy #2 came out and I realized he was a chocolate. This wonderful website explains all the possible genetic color combinations in Labrador Retrievers. This litter has 7 puppies — 2 chocolate boys, 1 chocolate girl, 1 yellow boy and 1 yellow girl, 1 black boy and 1 black girl so we beat the odds on the genetics chart!

The first couple of weeks the pups can't see or hear. Their eyes and ears are actually sealed shut. Click here for a photo of a still sealed ear. About 2 weeks of age the eye start to open in the corners and the ears begin to unseal. Then the fun begins!
During days 3 to 16 we follow the program for Early Neurological Stimulation for puppies. It is believed that this Early Neurological Stimulation enhances a puppy's development. Originally called the "Bio Sensor" program, these exercises were developed by the U.S. military for their canine training programs to give the dogs a superior advantage.. Their studies confirmed that there are specific time periods early in life when neurological stimulation has optimum results. Days 3 to 16 are one of those time periods.
The exercises (done for 3 to 5 seconds each) involve handling the puppies one at a time while performing a series of five exercises. Listed in order of preference the handler starts with one pup and stimulates it using each of the five exercises. The handler completes the series from beginning to end before starting with the next pup. (Note we handle our puppies more than once per day but these exercises are only done once per day or they may stress the puppies out.)

Tactical stimulation (tickled between toes on one foot with a q-tip)
Head held erect
Head pointed down
Supine position (on back)
Thermal stimulation — puppy is placed on a towel that has been cooled in the
refrigerator for at least 5 min.

Summer's puppies were all walking around in the whelping box by about 10 days even through they could not yet see or hear so I do think these exercises make a difference right from the beginning.
The first couple of weeks the puppies are weighed every day to make sure everyone is gaining weight appropriately. Their nails are clipped with fingernail clippers every few days as otherwise they scratch their mom while they are nursing.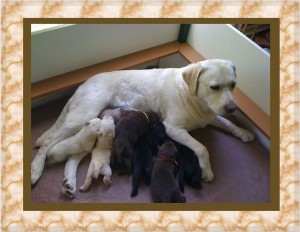 Deb takes vacation time from work or juggles her schedule so the pups are rarely alone. (The first week Deb sleeps near the whelping box as well so that no accidents, such as the mom laying on a puppy, happen.) Lots of laundry needs to be done as we use reusable cloth pads and fleece in the whelping box to keep the puppies dry and comfortable.
Having puppies is a very rewarding but busy experience and certainly not a money maker but a labor of love.
I will post more updates and photos as the puppies grow.